Megalobox 2: Nomad to release in April, Teaser unveiled
The Megalobox anime sequel is set to premier in April 2021 on Japanese television. Anime studio TMS Entertainment made this announcement on Wednesday, and the sequel to the 2018 show is titled MEGALOBOX 2: NOMAD. It will air on the TOKYO MX and BS11 television networks.
A teaser trailer was released, which gives us a glimpse of what happened after protagonist Joe's match with Yuri:
And so was a teaser visual, created by the series director Yo Moriyama: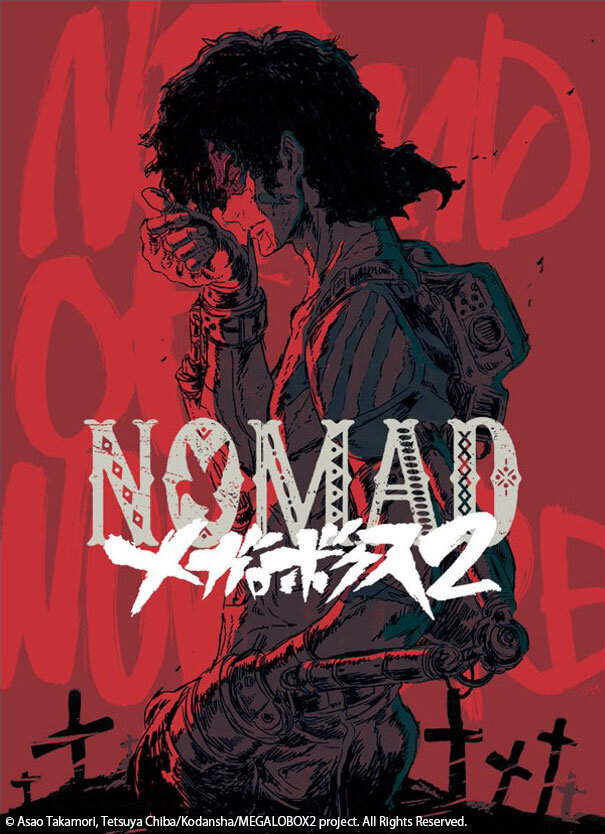 The art gives us a hint at a bleaker tone in the sequel, and features Joe with a body full of scars in his gear. Seven years after his reign as the champion, he calls himself the Nomad.
Here is TMS Entertainment's synopsis for the upcoming anime sequel:
In the end, "Gearless" Joe was the one that reigned as the champion of Megalonia, a first ever Megalobox tournament. Fans everywhere were mesmerized by the meteoric rise of Joe who sprung out from the deepest underground ring to the top in mere three months and without the use of gear. Seven years later, "Gearless" Joe was once again fighting in underground matches. Adorned with scars and once again donning his gear, but now known only as Nomad…
Megalobox is based on Ikki Kajiwara and Tetsuya Chiba's manga called Ashita no Joe/Tomorrow's Joe. The 13-episode anime was released in April 2018 to celebrate the 50th anniversary of the manga.
The cast and staff behind the Megalobox sequel were also revealed in the announcement:
STAFF
Original Concept: Tomorrow's Joe
Original Comic Books Created by Asao Takamori, Tetsuya Chiba / Published by Kodansha.
Director / Concept Designer: Yo Moriyama
Scenario: Katsuhiko Manabe, Kensaku Kojima
Character Designer: Ayumi Kurashima
Sub Character Designer: Naomi Kaneda
Music: mabanua
Animation production: TMS Entertainment Co., Ltd.
Produced by MEGALOBOX2 Project
CAST
Joe / NOMAD: Yoshimasa Hosoya
GANSAKU NANBU: Shiro Saito
YURI: Hiroki Yasumoto
SACHIO: Michiyo Murase