My Hero Academia Chapter 343 Raw Scans Reveal Aoyama's Cunning Plan
The raw scans for My Hero Academia Chapter 343 were released recently and we got a good peek into what will happen in the next chapter. Read on to find out more.
My Hero Academia Chapter 343 Spoilers
The chapter begins with All For One where explains that he has a particular ability that allows him to know whether he's lying or not. This quirk was stolen from one of his former victims.
In My Hero Academia Chapter 343, he then picks up a call from Aoyama's mother, who informs him that his son is capable of providing the Macallan requested. All For One then affirms that she is not lying before hanging up.
Following the annihilation of the Heroes, AFO intends to devalue the Yen and drive the corporate sector into bankruptcy. The number of villains would multiply as a result of the chaos, similar to the Great Depression or the Era of the Rise of Quirks.
With basic infrastructure failing, the country has no other alternative but to resort to AFO. He and his minions will supply them with water, gas, energy, and other resources by using the power of his quirks.
Midoriya desperately tries to reassure him that they will prevent this situation from happening, Aoyama sobs and states that he prefers his parents' safety. This was revealed in My Hero Academia Chapter 343.
Suddenly behind Aoyama, AFO appears. Midoriya shouts at finding out that Aoyama has betrayed him, prompting Aoyama to fire his Navel Laser towards AFO. The two youngsters congratulate one other on their successful deception of AFO.
Because he couldn't detect any lies in the phone call, the villain is perplexed as he deflects Aoyama's strike. He chooses to focus on capturing One for All for the time being and teleports Dabi, Toga, and Shigaraki to the parking lot.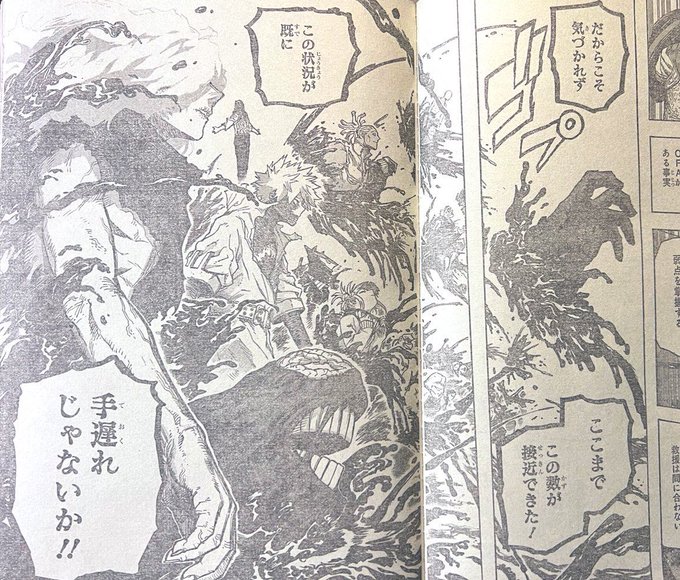 As they prepare for war, Aoyama informs AFO that Japan hasn't given up hope.
Read this: Demon Slayer Season 2 Episode 17 Reveals Tanjiro's Demon Slayer Mark
My Hero Academia Chapter 343 Release Date
My Hero Academia Chapter 343 is scheduled to get released on February 13, 2022. You can read all the three latest chapters of MHA from Viz Media and MangaPlus.