Tokyo Revengers Chapter 242 Release Date and Potential Spoilers
With Mikey's past revealed can Takemichi be able to deal with him the next time they face off. Read more to learn about tokyo revengers Chapter 242.
Read here:One Piece Episode 1010 Release Date, Preview and Other Details
About Tokyo Revengers:
Takemichi Hanagaki's life is extremely unsatisfying and things get even worse when he learns that his ex-girlfriend from middle school, Hinata Tachibana has been killed by the Tokyo Manji Gang. The next day, wondering where it all went wrong, he's at the station platform and when he ends up being pushed over onto the tracks, he thinks he's going to die.
But when he opens his eyes, he finds that he's travelled back 12 years in the past. Now that he's back reliving his old life, Takemichi resolves to join the Tokyo Manji Gang to alter the future and save Hinata.
Tokyo Revengers Chapter 241 recap:
This chapter was titled " A Forced Smile" and followed up from the ending of last chapter which was a childhood flashback.  It was back when Senju was in 3rd grade and how she was raised by a single father who often left her and her brothers at their grandmother's home. The role of the parental figure was taken by Takeomi but because of his constant business with the Black Dragons, Senju's upbringing was in the hands of Haruchiyo.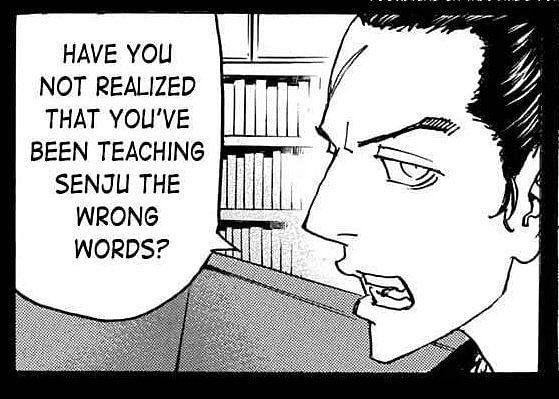 We can see Takeomi blaming Haruchiyo for not correcting Senju when using the wrong gender distinct word. For this, He was always annoyed at her for the blame he got in her name.
On one such occasion Senju ends up breaking a toy aeroplane of Mikey's and instead of owning up she puts the blame on Haruchiyo. Later, a screams alarms her and when she goes out to see what it is,she sees Baji on the ground, Mikey with blood on his hands and Haruchiyo's mouth torn apart and covered in blood.
Mikey then instructs Haruchiyo to smile, to which Haruchiyo obeys.
The chapter ends with Takemichi asking Senju to join his gang. Senju agrees and thus becomes the final member of the Gang.
Tokyo Revenger Chapter 242 Possible Spoilers:
For the next chapter, we can expect the new gang members finally interacting with everyone else and planning their next course of action. Perhaps, the new name and uniform of the gang will be revealed as well.
Tokyo Revengers Chapter 242 Release Date:
Tokyo Revengers Chapter 241 is scheduled to be released on Wednesday, February 16, 2022 .
Read here:Blue Lock Chapter 163 Raw Scan, Release Date, and Other Details.
Where to Read? 
You can read the upcoming chapter and the rest of the series on the Kodansha website or the Mangamo app.