What Are Movie Theaters Doing To Keep Us Gripped For Next Spider-Man Movie?
When there's nary even a serious poster for "Spider-Man: No Way Home," what is a movie theater to do? In some cases, the answer, apparently, is to just go right ahead and make your own! A number of local cinemas have done exactly that in order to help get people excited (and hopefully boost ticket sales).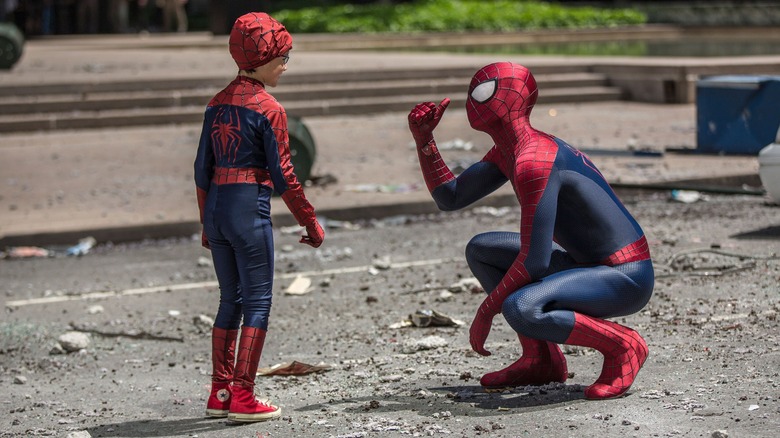 Over on Twitter, user @spiderman3news shared photos of two fake posters from Westown Movies and Cinepalace respectively along with a tweet that reads, "Cinemas really got sick of waiting for the official no way home trailer and went 'f*** it I'll do it myself.'"
Both posters have a very similar motif — a number of portals (like the ones we see in "Doctor Strange" and at the end of "Avengers: Endgame") show different locales and different characters. One poster shows Doctor Strange as well as Tom Holland with the Maguire and Garfield Spider-Man suits.
The Cinepalace poster looks pixelated and as though it were made by someone with just a little time on their hands. The Westown Movies poster, however, looks pretty darn realistic. And, in addition to what was shown on the Cinepalace poster, there's one other Spider-Man present — Miles Morales.
You may also like: Why Are Fans Suddenly Talking About Daredevil Cameo In Spider-Man: No Way Home?
Both posters use the same portals, which makes it worth wondering — is that accidental, or has someone at one of these theaters seen the real thing? The posters are variations on an identical theme, so it's possible someone knows something.
While it's unknown when a teaser or trailer will drop for "Spider-Man: No Way Home," it shouldn't be long. In fact, since the next Marvel Disney Plus series "What if…?" involves alternate versions of famous characters and stories, don't be surprised if "No Way Home" gets a trailer sometime in August as episodes of "What If…?" air.