Thanos Being A Good Guy in What If?… Is The Biggest Surprise Yet
The second episode of What If…? Was more than expected. From T'Challa becoming Star-Lord to Thanos being super cute, the writers indeed turned the tables. The episode in 34 minutes left managed to give the audience a punch of kindness mixed with humor.
Read this too: What if…? The new episode, New Possibilities
Thanos has been "The Villian" of Marvel Cinematic Universe. His aura even had managed to bring a huge star cast in one single screen. Avengers: Endgame ranks 2nd on the highest-grossing film of all time. (Paisa hi paisa Hoga XD) The repercussion of Thanos's snap had wiped out half of the universe, his utmost obsession. Though not this time, it seems.
Thanos in a New Avatar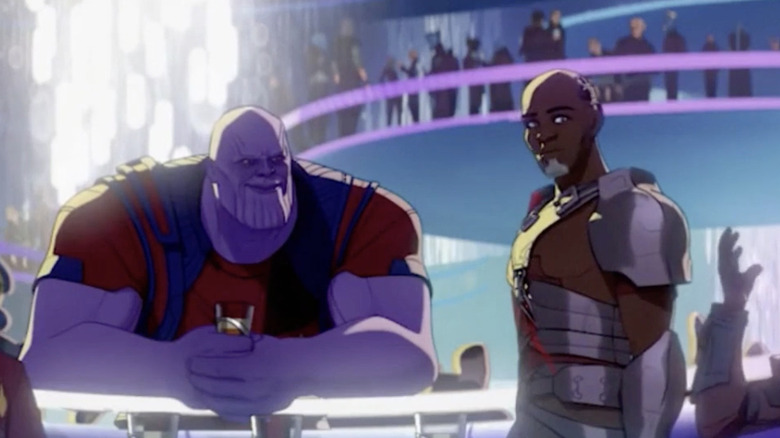 Thanos in this alternate universe had a change of heart. YES, YOU HEARD IT RIGHT! Previously, Thanos was a genocidal maniac. Nevertheless, here he is a part of T'Challa aka Star-lord's adopted family of saviors. Thanos had dropped his idea to wipe off the universe. Thanks to Star-lord's persuasive skills in getting this mission abort. ( Went pretty smooth, didn't it.)
We know in the original film sequence, Thanos had teamed up with Ronan to fulfill his motive. Thanos wanted to hunt down the orb. In this timeline, we find him battling against the member of the Black Order, also known as the Children of Thanos. The only adoptive child Thanos had was Nebula. He fought against Ebony Maw, Proxima Midnight, Corvus Glaive, and Cull Obsidian. Gamora was nowhere to be found.
Read this: Episode 2 Of What If…? Explained
Father and Daughter Duo
It was interesting to see Thanos all focused on Nebula. The writers managed to repair the broken relationship. As he had no other daughter, the bond was stronger. In the episode's fight sequence Thanos asks Nebula to leave but later she comes to save him. What a daughter and father bond, unexpected right?
This episode with making T'Challa the respectful Starlord and Thanos a kindhearted character left the audience with a concept to ponder upon. "In the multiverse, is destiny determined by nature or nature determined by destiny?" This is the question which hopefully would get answered.
This is How People Reacted 
// What If…? spoilers
#WhatIf 
#TChalla 
–

–

–

–
This episode was a love letter to T'challa. Marvel showed the character's true power by having HIM be the reason Thanos stopped his conquest after a simple conversation. Love this and thought it made so much sense.?? pic.twitter.com/kL5HiRS27t

— Matt Ramos (@therealsupes) August 18, 2021
I need a Bro Thanos Marvel Legends figure. #WHATIF pic.twitter.com/Y3eTKP3gra

— Furlow7 (@Furlow71) August 18, 2021
T'Challa or perhaps… "Star Lord" has gotta be the coolest mf in the universe if he stopped Thanos by giving a valid argument against his cause. Not only that, but is also bagging his step-daughter. pic.twitter.com/RWfFazF5At

— ImBalucas (@Gold_kingjr) August 18, 2021
#WhatIf   spoilers
•
•
•
•
•
•
seeing nice thanos was so weird ? pic.twitter.com/ume8gUlKUy

— dee saw eternals (@SC4RLETWITHC) August 18, 2021
Watch the episode 2 promo trailer here: