Jujutsu Kaisen Chapter 207 Spoilers and Raw Scans!
Choso reappeared at the previous chapter's conclusion! Jujutsu Kaisen Chapter 207 spoilers and raw scan are now available, find out more here.
About Jujutsu Kaisen
The plot of Jujutsu Kaisen centers on Yuji Itadori, a high school student who, after becoming a vessel for Ryomen Sukuna, enlisted in a secret organization that seeks to end all curses worldwide. With the help of his friends, Yuji started to grow and slowly learned how to control the powers of Ryomen Sukuna.
Read this: My Hero Academia Chapter 376 Release Date, Spoilers, and Other Details
Recap of Jujutsu Kaisen Chapter 206
The beginning of Jujutsu Kaisen chapter 206 featured Yuki and Tengen planning their attack against Kenjaku. The immortal sorcerer suggested forcing the enemy to open his domain within Tengen's empty barrier, which would weaken him. Yuki suggested using her own domain to force Kenjaku's hand, but Tengen warned her that their technique would affect her domain, allowing the villain to use a Simple Domain instead. But the chapter shows that they were wrong.
Kenjaku's domain lets him use cursed techniques without closing the barrier, so Tengen can't take away his domain. Yuki's New Shadow Style: Simple Domain was stripped away as she attacked Kenjaku's domain. The immortal sorcerer removed his own empty barrier to dispel the enemy's domain. But it was too late; Kenjaku had already crushed one of Yuki's arms with his gravity-cursed technique. As Kenjaku began to mock the special-grade sorcerer for putting his faith in Tengen, Garuda's presence caused him to pause.
Read this: Bleach; The 5 Weakest Sternritter Ranked By Battle Prowess
In chapter 206 of Jujutsu Kaisen, Yuki proves why she is so terrifying by attacking the ancient sorcerer despite being badly hurt. Yuki was unwilling to risk giving their enemy a chance to recover by using the Reverse Cursed Technique to heal herself. The fight seemed over when she hit her limit, but Choso returned to the fray in the last panel of Jujutsu Kaisen Chapter 206, poised to launch an attack.
Jujutsu Kaisen Chapter 207 Spoilers
Spoilers Ahead!
The Jujutsu Kaisen Chapter 207 spoilers begin with a flashback of Tengen, Yuki, and Choso plotting their strategy for defeating Kenjaku. Raw scans show the Death Painting attacking Kenjaku while he's distracted by Yuki, who reached her limit in chapter 206.
Kenjaku tries to avoid Choso, but the Death Painting's attack rips off Geto's head, revealing his brain.  Yuki and Choso attack Kenjaku as he tries to fix his head. Furthermore, Yuki is seen elaborating on a point related to Kenjaku's brain. While Choso keeps Kenjaku preoccupied with constant attacks, Yuki uses the time to heal her arm in the next panel. After her arm heals, Yuki uses her Garuda as a whip to attack Kenjaku. As a result of the force of her blow, he is sent soaring through the air.
Choso charges Kenjaku, but Kenjaku uses his gravity attack to crush Choso and Garuda. He finally exhales in relief after receiving so many blows in a row. Yuki grips her Garuda and swings it viciously, hoping to strike Kenjaku in the face. Yuki deduces that Kenjaku's gravity attack has an effect within a radius of 1-2 metres for a duration of 6 seconds.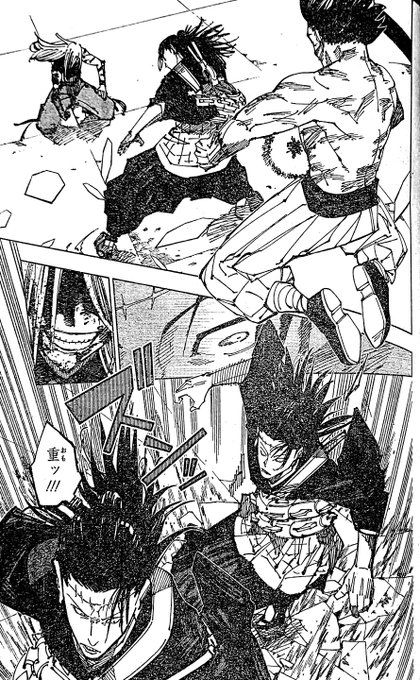 In an effort to escape her Garuda, Kenjaku conjures a giant skull-like curse, complete with large teeth and powerful hands, but it is quickly crushed. She reverts to close-quarters combat and delivers a powerful blow to his face. As Kenjaku seizes her hand, Yuki's expression betrays her fear of what's to come. He conjures up an Uzumaki and blows it directly in Yuki's face. She may have reduced damage by shielding her face. However, he then makes another Uzumaki that slices through her abdomen that causes a bloody cough. The chapter concludes with Choso shouting "Tsukumo."
Jujutsu Kaisen Chapter 207 Release Date
Read this: Here's The Most Evil Anime Villains Of All Time
Depending on your location, Jujutsu Kaisen Chapter 207 will be released at or around the following times:
Pacific Time: 8 am PST (December 18, 2022)
Eastern Time: 11 am EST (December 18, 2022)
British Time: 4 pm BST (December 18, 2022)
European Time: 5 pm CEST (December 18, 2022)
Indian time: 8:30 pm IST (December 18, 2022)
Philippine Time: 11 pm PHT (December 18, 2022)
Japanese Standard Time: 12 am JST (December 19, 2022)
Australia Time: 12:30 am ACST (December 19, 2022)
Where To Read
You can read the three latest chapters for free on websites like Viz or Mangaplus. However, you need to pay for a monthly membership to access them.