Taika Waititi Is 'Supportive' Of Portraying King Valkyrie's Sexuality
With celebrated New Zealand director Taika Waititi's latest MCU film "Thor: Love and Thunder" hitting theaters, fans are anxious to see what surprises await the God of Thunder as he faces off against Gorr the God Butcher (Christian Bale). However, one question lingers: how will this movie depict the sexuality of Tessa Thompson's character, King Valkyrie?
A scene in which a woman is seen leaving Valkyrie's chambers, confirming her bisexuality, was infamously cut from "Thor: Ragnarok," Waititi's previous MCU feature. Nonetheless, Thompson confirmed in a 2018 interview with Independent that her character is indeed queer. The omission prompted fierce backlash from parts of the LGBTQ+ community, with Advocate describing the removal of such an innocuous scene as an example of queer erasure and "straightwashing."
Fast forward to 2022 and things are slowly changing for LGBTQ+ representation in the MCU. "The Eternals" featured an openly gay hero in the form of Phastos (Brian Tyree Henry), while "Doctor Strange in the Multiverse of Madness" introduced America Chavez (Xochitl Gomez), a character shown to be raised by a lesbian couple. Additionally, "Loki" confirmed that its titular antihero (Tom Hiddleston) is bisexual, a change made especially notable because Hiddleston's Loki is baked into the DNA of the franchise.
Read this: Taika Waititi Plays Coy About Thor 5, Waititi Unsure About Future After Thor 4
With these small steps toward progress, it was no surprise that, in 2019, Kevin Feige told the press that Valkyrie will have a queer romance in "Thor: Love and Thunder" (via Gizmodo). As it turns out, Waititi has already made his thoughts known on the matter.
Taika Waititi is 'supportive' of portraying King Valkyrie's sexuality
Speaking to Variety for a cover story in 2020, "Thor: Love and Thunder" director Taika Waititi expressed his willingness to depict Tessa Thompson's Valkyrie as explicitly queer. "The IP is not mine," the filmmaker said. "But with the actors, I feel whatever makes them comfortable — whether they feel like there's a natural choice, or a natural way for that character to go — then I'm pretty supportive."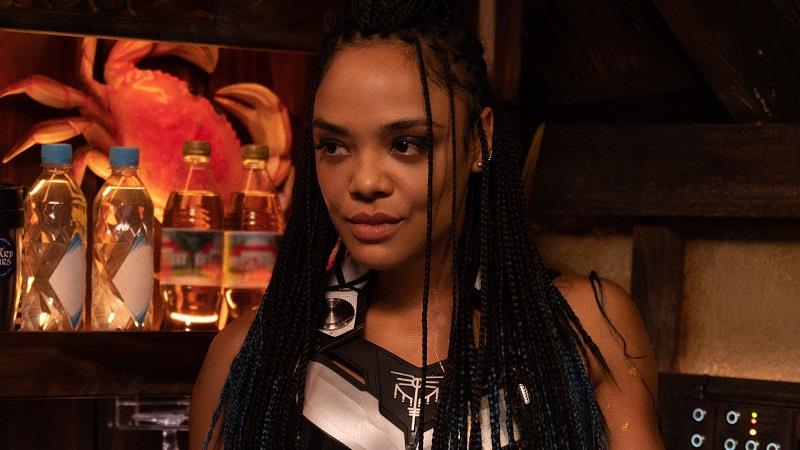 Waititi's recent creative output suggests a strong commitment to LGBTQ+ representation. His hit FX comedy in collaboration with Jemaine Clement, "What We Do in the Shadows," stars Matt Berry and Kayvan Novak as vampires Laszlo and Nandor, both of whom are confirmed as having an attraction to multiple genders. More recently, Waititi created and starred in the sleeper-hit "Our Flag Means Death" for HBO Max, a tropey sendup of the swashbuckler genre featuring multiple gay and trans characters.
However, over at Disney, progress has been slower. While representation of LGBTQ+ characters in the MCU has improved, many factors have put the media megacorporation on its heels relative to the rest of pop culture. There is, of course, the reported censorship of queer depictions in large foreign markets such as China. However, the company faces obstacles domestically as well. After becoming embroiled in the controversy over Florida's "don't say gay" law, Disney also faced backlash from some conservatives over a same-sex kiss in Pixar's "Lightyear," prompting scathing words from Chris Evans, the movie's voice lead.
Read this: What Is Marvel Studios Reaction To Taika Waititi And Tessa Thompson's Viral Threesome Pictures?
As willing as Waititi might be to explore King Valkyrie's queer identity, he is bound by the machinery of the company that finances these blockbuster films. Marvel's internal strife over depicting diversity onscreen illustrates what an uphill battle that can be.
Behind the scenes of the MCU's battle for diversity
Since Waititi's last MCU project, 2017's "Thor: Ragnarok," there has been a sea change at Marvel Entertainment. Much of the increased representation in the MCU — not only of LGBTQ+ individuals but of women, people of color, and more — has been chalked up to the 2015 departure of Marvel Entertainment CEO Ike Perlmutter. MCU architect Kevin Feige notoriously butted heads with Perlmutter over diversity in the franchise, even threatening at one point to leave the company (via IndieWire). Disney CEO Bob Iger even wrote in his memoir "The Ride of a Lifetime" that he had to personally override Perlmutter to order the production of "Black Panther" and "Captain Marvel" (via IGN). Seemingly fed up, Disney eventually gave Feige full creative control of the MCU.
Read this: Is Taika Waititi Married? Who Are His Kids?
Since Perlmutter left the studio, the MCU has filled screens with characters of diverse backgrounds. On top of the increase in LGBTQ+ characters, "Black Panther" netted the MCU its first best picture nomination at the Oscars, while "Shang-Chi and the Legend of the Ten Rings" was a celebration of Chinese culture. On the small screen, "Moon Knight" portrayed the MCU's first Jewish hero, while "Ms. Marvel" is the first Pakistani Muslim to feature in the expansive universe. Additionally, the studio has released two female-led films in the form of "Captain Marvel" and "Black Widow."
As for the fate of King Valkyrie, it seems that fans will have to wait for the arrival of "Thor: Love and Thunder" at the cineplex on July 8 to find out if Feige and Marvel follow through on exploring the character's identity.