Classroom Of The Elite II Episode 11 Release Date, Preview, and Other Details
Read this article to find out more about Classroom Of The Elite II Episode 11, its release date, preview, and other details.
About Classroom Of The Elite II
Koudo Ikusei Senior High School is a well-known, prestigious school with state-of-the-art facilities. The majority of its students go to college or get jobs after graduation. Although Koudo Ikusei seems like a utopia, only the brightest kids are treated well there. The D-class is where the school sends its "inferior" students so that they can be ridiculed.
Ayanokouji Kiyotaka is a shy and reserved boy with unmatched intelligence in the D-class. He was placed there as he wasn't careful enough on his entrance exam. When Kiyotaka meets two other students in his class, Horikita Suzune and Kushida Kikyou, things start to get better for him.
Read this: Jujutsu Kaisen Chapter 197 Release Date, Spoilers and Other Details
Classroom Of The Elite II Episode 10 Recap
The Ayanokoji group notices Honami Ichinose and Arisu Sakayanagi hanging out. They notice that everything about Honami is perfect; in order to take down Class-C, they decide to target Honami. Karuizawa is being followed by a Class C student. Later, she tells Kiyotaka what happened and also tells him that a Class-A student was watching their study sessions.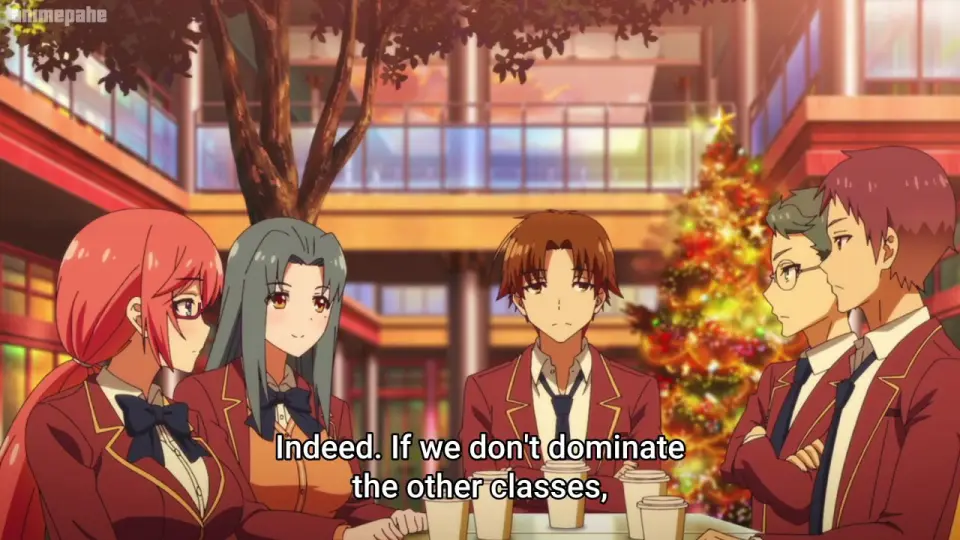 The next day, many Class-D students are provoked by Class-C. Suzune says that Ryuen is doing this to lure out the mastermind and that he doesn't believe that she is the mastermind. While taking Suzune's book back to the library, Kiyotaka sees Hiyori from Class-C. And talk about books they like, even though they are in rival classes. Following that, Kiyotaka is led to a reception room by Chabashira, where his father, whom he hasn't seen in a year and a half, is waiting.
Read this: Shadows House Season 2 Episode 10 Release Date, Preview, and Other Details
Mr. Ayanokoji starts by saying that their butler killed himself after being fired for helping Kiyotaka apply to school. Kiyotaka left his family to find himself and live on his own because his father wouldn't let him. To make things worse, he wants Kiyotaka to withdraw from school and return to the White Room.
When Mr. Sakayanagi, the chairman of the school, and Arisu's father appear unexpectedly. He interjects that Kiyotaka was admitted on his recommendation and that no one has the right to forcefully withdraw a student. After which Mr. Ayanokoji backs down for the time being.
Following the meeting, Kiyotaka criticizes Chabashira for using him to advance to Class-A. Later that night, Kiyotaka apologizes to Karuizawa for using her and says that he'll give up trying to advance Class-A. He ends the call by stating that this will be their final conversation. 
Classroom Of The Elite II Episode 11 Preview/Spoilers
Episode 10 ends with Kiyotaka telling Karuizawa that he'll stop Helping Class-C advance to Class-A … But with how far he has progressed can he go back to being on the sidelines? And what of his fight with Ryuen?
There is no spoiler yet and we have so many questions and speculations that will be appeased only after Episode 11 is released. Thankfully we won't have to wait long as the airing date of the next episode is nearing.
Read this: Tokyo Revengers Chapter 269 Release Date, Spoilers, and Other Details
Classroom Of The Elite II Episode 11 Release Date
The Classroom of the Elite II Episode 11 is set to release on Monday, September 12, 2022, at 9 pm JST. The episode with English subtitles will be available an hour and a half after it airs in Japan. The timing of the release will differ according to your location, given the concurrent release schedule of the show.
6:30 AM Pacific Daylight Time
7:30 AM Mountain Daylight Time
8:30 AM Central Daylight Time
2:30 PM British Summer Time
3:30 PM Central European Summer Time
7:00 PM Indian Standard Time
Where To Watch
The anime is available for streaming on Crunchyroll and Funimation. These websites, however, charge a monthly subscription and are not available for free. Furthermore, Funimation is not available in all countries.