Who is Emilia Clarke Playing in Secret Invasion?
Ever since Game of Thrones developed into a global phenomenon, Daenerys Targaryen actress Emilia Clarke quickly shot to stardom, becoming among the most sought-after talents in Hollywood. Since then, the British star has joined both the Terminator and Star Wars franchises with her latest venture being into the MCU as Clarke takes on a key role in the upcoming Secret Invasion Disney+ series.
Inspired by the comic book storyline of the same name, Secret Invasion will see the shape-shifting Skrulls integrating themselves into human society as part of a plan to stealthily invade Earth. The original story was packed with twists, turns, and surprise reveals, so fans should prepare for plenty of shocks in the Disney+ series.
The comic-inspired series will be led by Samuel L. Jackson's Nick Fury and Ben Mendelsohn's Talos with Cobie Smulders reprising her Avengers role as Maria Hill. Meanwhile, award-winning actresses Olivia Coleman and Emilia Clarke will be making their Marvel debuts in the Disney+ series as currently unknown characters.
Clarke has recently been spotted on a Russian-inspired set shooting a scene with Cobie Smulders' Maria Hill that clearly demonstrates a friendly relationship between the two. Previous reports from insiders described her character as a "spy with powers," so it can be assumed her mysterious character will be working with Hill and Fury.
Read this: Why Is Emilia Clarke Scared Of MCU?
As speculation continues to go crazy online surrounding the identity of the Game of Thrones star's spy character, here are three Marvel characters Emilia Clarke could be playing in Secret Invasion​​​​.
Abigail Brand
With both human mutant and alien genes, Abigail Brand was a SHIELD agent who went on to become a commander at SWORD at a young age. Her mutant powers give her the ability to emit hot blue flames from her hands which can cut through metal, a helpful tool in her spy and espionage antics.
In the original Secret Invasion comic storyline, Brand played a critical role as she rescued Mr. Fantastic from Skrull captivity and uncovered the true severity of the alien invasion. SWORD was recently introduced to the MCU in WandaVision and with Nick Fury working with them, they will undoubtedly play a key role in Secret Invasion, meaning Abigail Brand is probably right around the corner.
The SWORD commander was the fan-favorite choice for Emilia Clarke's Secret Invasion character until recent set photos showed her with brown hair when she is known for her iconic short green hair. While it's entirely possible the Disney+ series will abandon her classic look, at least at first, it drastically reduces the likelihood of Clarke playing Brand, but perhaps the comic design didn't smoothly translate to live-action well.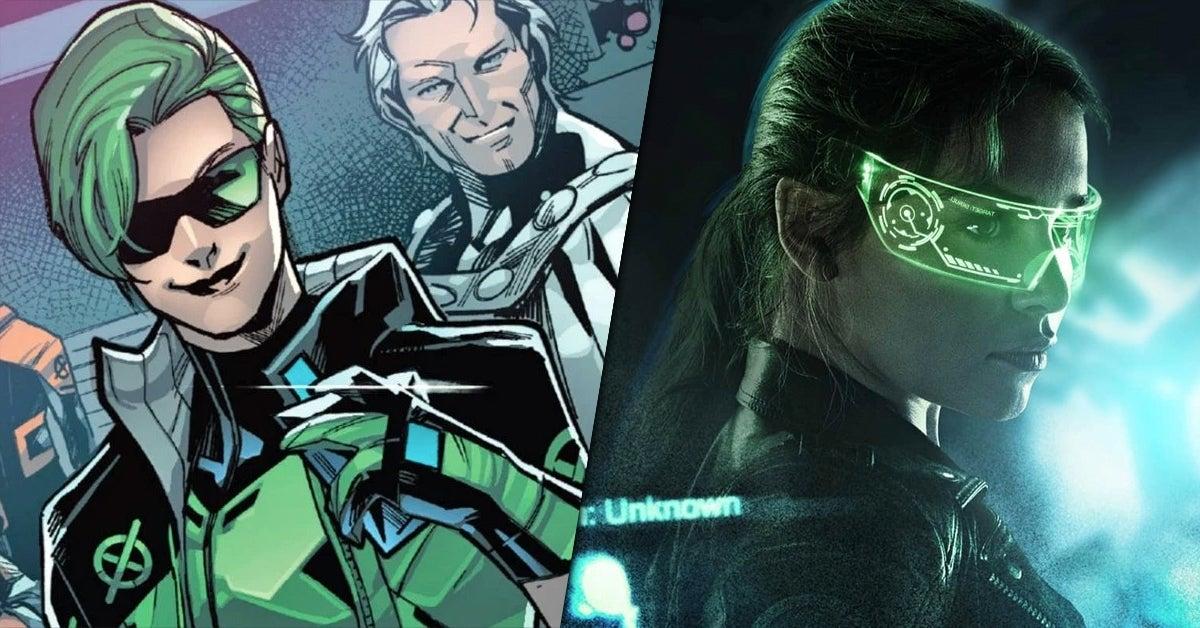 Abigail Brand certainly remains the top contender for Emilia Clarke to play in Secret Invasion, and she would undoubtedly thrive in the role. So far, all evidence points to Clarke portraying a super-powered spy with ties to SWORD and potential for an MCU future, a description that Brand matches perfectly.
Spider-Woman
Jessica Drew aka Spider-Woman was a major player in the original Secret Invasion storyline and was among the heroes to be revealed as a Skrull imposter. In the event that Clarke is playing the live-action Drew, fans should prepare themselves to be revealed later in the series as a Skrull.
The spy hero has had many origins over the years, but almost all see her as the result of experimentation that gave her spider-like powers. Drew went on to become an agent of both SHIELD and SWORD before going on to join the New Avengers.
The film rights surrounding Spider-Woman are a complicated issue between Marvel and Sony. Much like with Quicksilver and his affiliations to both the Avengers and X-Men which led him to appear in Marvel's Age of Ultron and Fox's Days of Future Past within two years, Spider-Woman has some stake in both camps.
Due to her significant affiliation to both SHIELD and SWORD, Marvel Studios are free to use Jessica Drew as a spy character, while only Sony holds rights over her Spider-Woman elements. Although with the current deal between the two which places Tom Holland's Spider-Man in the MCU, perhaps some arrangement could be worked out.
Recent reports indicate Booksmart director Olivia Wilde is currently developing a Spider-Woman movie for Sony. But with Drew being such an integral character to the wider universe, Marvel Studios president Kevin Feige may be eager to bring her into his universe too, even if that is without her spidery elements.
Quake
Inhuman hero Quake made her live-action debut in Agents of SHIELD played by Chloe Bennet and since then there has been a widespread call among fans for her return. But with Agents of SHIELD's canon status remaining up in the air, perhaps Clarke could play a recast Daisy Johnston – therefore replacing Bennet in the role.
In the Secret Invasion comic, Nick Fury ordered the super-powered SHIELD agent to assemble a team – known as the Secret Warriors – to help fight the Skrull invasion. Following rumors of a Secret Warriors project being in development at Marvel Studios and no evidence of Bennet returning anytime soon, perhaps Quake may be recast for the MCU, officially decanonizing the Marvel TV series.
Although this theory is hindered by Marvel Studios' aversion to introducing the Inhumans into the MCU. Ever since Disney's acquisition of Fox finally opened the doors to using the mutants in the MCU, Kevin Feige appears hesitant to have both in the universe at once.
Read this: Lesser Known Facts About Emilia Clarke We Bet You Didn't Know!
Around the time of the purchase, the in-development Inhumans movie was passed off to television, and years later Ms. Marvel appears set to be stripped of her Inhuman origins in the upcoming Disney+ series.
If Quake were to join the MCU and Clarke was the actress in the role, Daisy Johnston fans should prepare themselves for a heavily modified origin similar to Ms. Marvel. The character would certainly fit the rumored description of a spy with superpowers, although it seems unlikely Feige would look to reboot Quake so soon after Agents of SHIELD's conclusion.
Who is Emilia Clarke Playing in Secret Invasion?
With no trailer in sight and filming still underway, it remains hard to determine with any certainty who Emilia Clarke may be playing, especially with Marvel being tight-lipped about the casting.
Based on the appearance of her character on set alone, Abigail Brand appears to be an unlikely contender, unless the MCU is simply abandoning her classic design. Both Jessica Drew and Daisy Johnston remain possible choices, but one is certainly more likely than the other.
As the MCU begins to reintroduce its TV characters into the wider universe with both Daredevil and Kingpin recently, it seems unlikely Kevin Feige would reboot Quake with a new actress. Meaning that, based on elimination, Jessica Drew is the best guess for Emilia Clarke's Marvel character.
As a big-name actress who has demonstrated exceptional ability in her past work, Clarke would be a great choice to bring Jessica Drew to life for the first time. At least initially, a live-action Drew would almost certainly be devoid of her Spider-Woman identity, but perhaps Sony and Marvel may be able to reach a deal on that front.
Secret Invasion is expected to premiere on Disney+ in late 2022 or early 2023.