Is Daniel Radcliffe Replacing Hugh Jackman?
Following Disney's purchase of 20th Century Studios, Marvel Cinematic Universe fans have been dying to know how Marvel Studios will integrate its reclaimed X-Men characters. Unfortunately, fans have seen few updates — thanks, in part, to the COVID-19 pandemic and 2023's Writers Guild of America and SAG-AFTRA strike.
But now that the WGA strike has reached an end, Marvel Studios boss Kevin Feige seems to be moving forward with developing X-Men-centric projects. Deadline revealed recently that the billion-dollar-grossing studio is actively seeking pitches for an X-Men-related project — though a decision likely won't be made until 2024. Of course, this crumb of information opened the floodgates for eager fans to cast X-Men roles. One name that keeps popping up is Daniel Radcliffe, who some think is the perfect choice to portray Wolverine.
For years, Radcliffe has denied rumors that he's stepping into the shoes of the iconic X-Men character. But due to his recent hulking transformation — which was recently on full display in the Season 4 finale of "Miracle Workers," where a super-buff Radcliffe runs around in his underwear on a war path — rumors are reigniting again!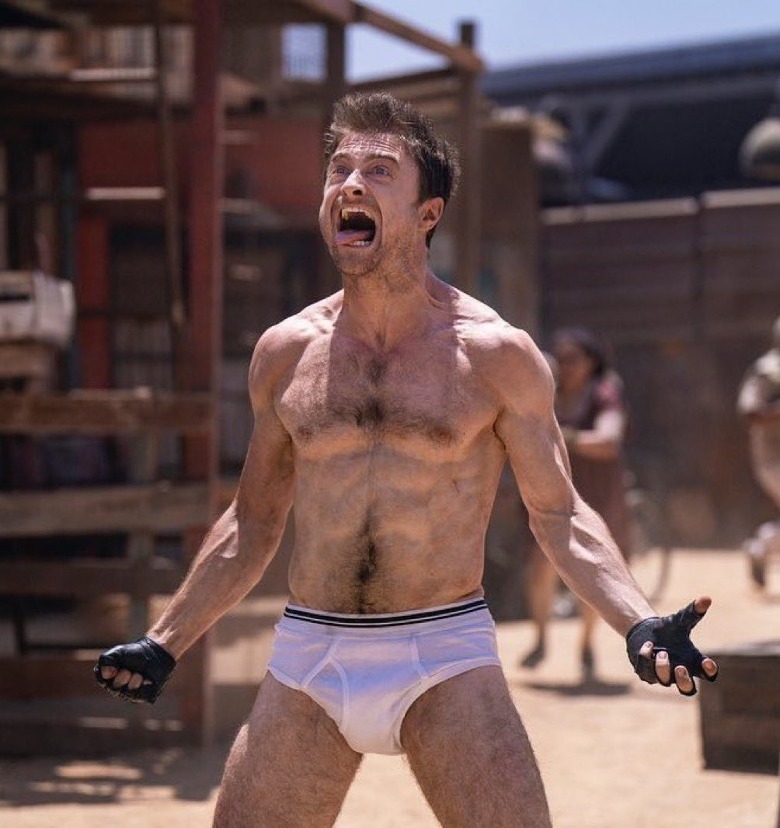 Daniel Radcliffe isn't replacing Hugh Jackman
While participating in Vanity Fair's lie detector test to promote his musical "Merrily We Roll Along," his Broadway co-star Lindsay Mendez asked Radcliffe if he "just got buff for no reason." Radcliffe casually said: "Yes." The actor added that his physical transformation is due to his fitness-obsessed parents. "That's just been passed on," he added. "No Wolverine. Flattered, but no."
In 2022, Radcliffe chatted with Jimmy Fallon about how he frequently has to attack the MCU rumor. "This is something that has come up every so often for the last few years," he said. "Every time it comes up, I'm like, 'That's not true. There's nothing behind that.' Everyone's like, 'Oh, he said it might be true.'" But why does Radcliffe think fans are so attached to him portraying the Marvel Studios' version of Wolverine? "Wolverine in the comics is fairly short, so I think it's people going like, 'Who's a short actor? Him. He can maybe play him," Radcliffe added.
Still, it's possible that the MCU won't bother casting a new Wolverine. Marvel's first "X-Men"-centric project, Shawn Levy's "Deadpool 3," features Hugh Jackman's Wolverine. The actor initially bid farewell to the character in "Logan," dying with his mentee, X-23 (Dafne Keen) — a character rumored to be in "Deadpool 3." But will he play a big role in this upcoming film? Let's not forget "Doctor Strange in the Multiverse of Madness," which baited fans with several debut MCU roles like Mr. Fantastic (John Krasinski) only to immediately kill them. However, Levy confirmed to Collider that his film relies heavily on Wolverine's character, so maybe this time … he won't die?