"Takako-san" ( Her Name is Takako) Manga To End Soon?
The slice of life manga Takako-san/Her name is Takako is reportedly coming to an end this year—according to its Amazon page for pre-orders, the sixth compiled book volume is listed as the final one. This volume is supposed to be shipped on February 6, 2021.
The manga premiered in Tokuma Shoten's Web Comic Zenyon website on December 20, 2014. Its fifth volume was published back in April 2020, by Comix.
The titular protagonist Takako is the focus of this series by Chie Shinkyū— she seems like an average café-worker. But her hearing is more sensitive than the average, and she takes comfort and refuge in being able to hear the sounds and people that are usually drowned out by the din of normal life.
Chie Shinkyū is best known for the Wakako-Zaké manga, which has sold over 1 million copies in total. It is available on Monthly Comic Zenyon, also by Tokuma Shoten, where it has been published since September 2011. Like Takako-san, readers can read it on Web Comic Zenyon as well.
MangaHelpers' synopsis:
Murasaki Wakako, who is 26 years old, loves going out alone to enjoy eating and drinking, especially when something unpleasant happens at work. This anime follows Wakako through many solitary outings, where she enjoys different combinations of food and drink!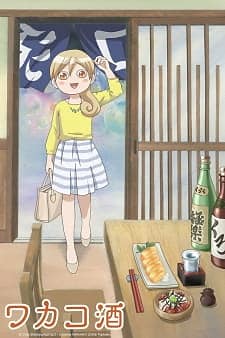 The seinen manga series, which has thirteen volumes so far, has also inspired a Japanese live-action television series, starring Rina Takeda, and a short anime series. The live-action has three seasons so far with twelve episodes each, with Crunchyroll broadcasting the first two seasons. It also inspired a Korean remake of the show, called Cheers to Me (나에게 건배, Naege Geonbae), and Oldboy actress Yoon Jin Seo as the protagonist Ra Yeo Joo.
The anime series has twelve short episodes of three minutes each, which was broadcasted from July 5 to September 20, 2015, and is also available on Crunchyroll.