Demon Slayer: Kimetsu no Yaiba's Second Season—Release Date, Teaser Revealed
The very popular anime series, Demon Slayer: Kimetsu no Yaiba is back for a second season, titled Kimetsu no Yaiba: Yuukaku-hen, which translates to Demon Slayer: Kimetsu no Yaiba -Red Light District. It is set to air in 2021.
The announcement was made late on Sunday, and includes a PV and a teaser visual: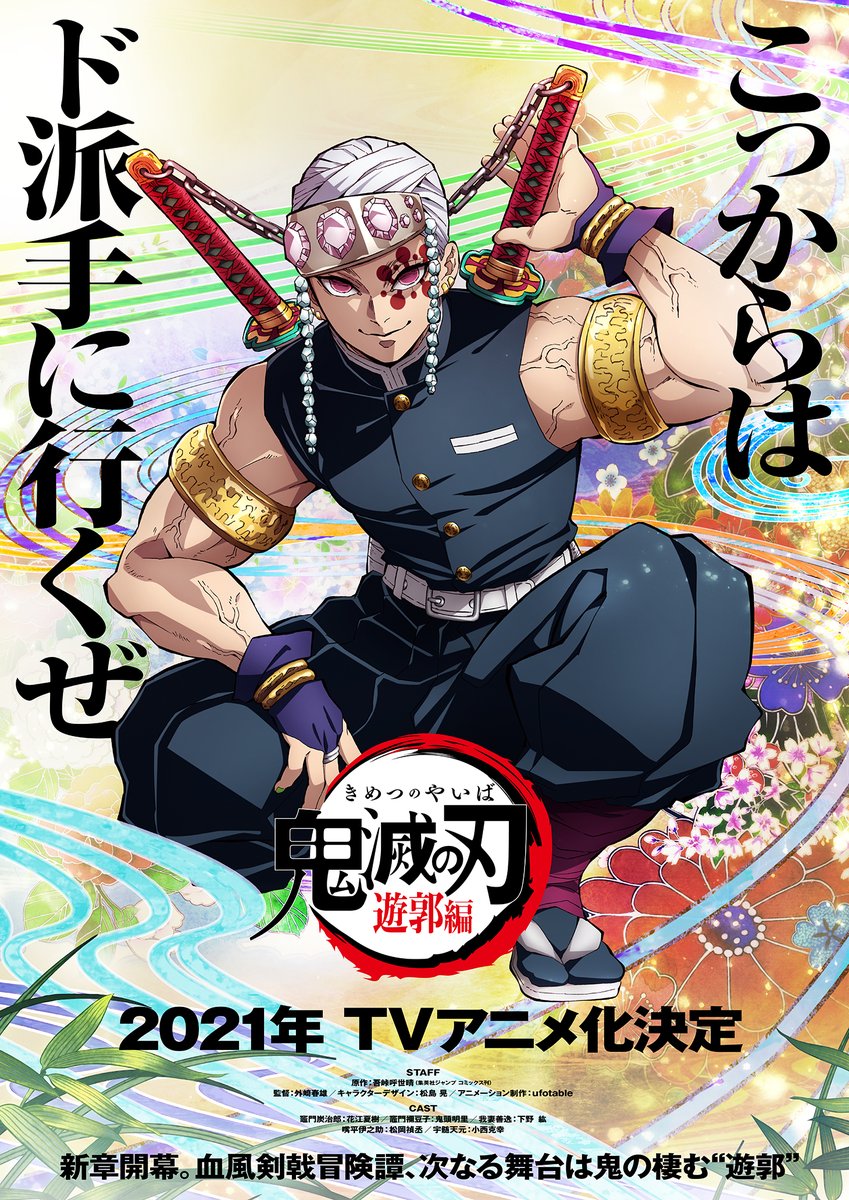 The PV on the official Youtube channel is region-blocked for many, so watch it here:
Kimetsu no Yaiba TV Anime Season 2 PV. Scheduled to air in 2021. pic.twitter.com/dXgXfGCY5t

— Shonen Jump News – Unofficial (@WSJ_manga) February 14, 2021
The production of a second TV anime season was inevitable, considering the record-breaking success that Demon Slayer: Kimetsu no Yaiba The Movie: Mugen Train has achieved, even during the COVID-19 pandemic. It is the highest-earning movie in Japanese box office history, surpassing even Studio Ghibli's Spirited Away.
ufotable is in charge of the production of the anime.
The Kimetsu no Yaiba series had its "Kimetsu-Sai Online: Anime 2nd Anniversary Festival" on the 14th, as well as the release of four special Valentine-themed shorts titled Kimetsu Gakuen Valentine-hen. It was during this event that the announcement was made.
As shown on the official website, the cast of the first season of the anime will be returning to play their original roles. The staff working on it will also be reprising their roles—Haruo Sotozaki is the director, while Akira Matsushima is the character designer once again. Hikaru Kondo, the founder of ufotable, is the producer. The music composers are Yuki Kajiura and Go Shiina.
It remains to be seen which artists will be performing the opening/ending credit songs, especially since LiSA's OP 'Gurenge' has become very popular and won several awards.
The first season of the anime premiered in 2019, and is available on major streaming sites like Crunchyroll and Hulu. It aired in two "cours", which is a three-month unit of TV broadcasting based on the physical weather seasons. We believe that Yuukaku-hen could also be split for airing.
The manga, created by Koyoharu Gotouge, is a best-selling one—it is Shueisha's second highest-selling manga in 2019, the first being One Piece. It has over 120 million copies in circulation.
The second season of the anime will start with Chapter 67 of the manga, which is the beginning of the Red Light District arc.